Thomas O. Berg and Ruth T. Seeger were part of the first USA Team going to Deaflympics in 1957. They had coached for over 85 years combined and coached numerous National Champions, All-Americans, Deaflympians and many of their athletes broke many national and world records.
The Berg/Seeger Classic is to honor these coaches for their outstanding coaching and contribution to track and field among Deaf athletes for so many years.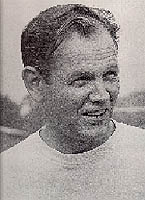 Thomas O. Berg – Thought to be "the greatest coach in deaf track and field history", discovered his passion for sports in the early 1940's while in college. Berg coached university sports for more than 30 years and was handpicked to coach the track and field team at the US International Games for the Deaf in Milan in 1957. He was also the head track coach for the USA World Games for the Deaf in '61, '69, '73, '77 and '89. He was the first chairman of the Deaf Athletics Federation of United States (DAFUS), and was nationally accepted among hearing and deaf coaches as a leader in many national sports organizations. Berg's athletes over the years won a number of medals and he himself was the recipient of many awards, including the Knute Rockne College Track Coach of the Year in 1962, and the Art Kruger Service Award from the USA Deaf Sports Federation in 1985. He lived through a long life till the age of 87. He passed away on 28 September 2009. On 17 April 2012, Gallaudet University Athletics Department held a luncheon and ribbon cutting ceremony to honor Berg by naming the track in his name, Thomas O. Berg Track at Hotchkiss Field.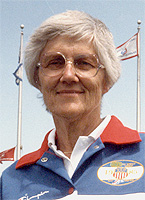 Ruth T. Seeger – She was always a tomboy growing up. As an adolescent, she saw Babe Didrickson compete and was from that point on, hooked on athletics. Seeger taught track and physical education at TSD for 36 years, and is the namesake of TSD's Seeger Gym. She established the Girls Athletics Association and formed the first girl's track, volleyball and softball teams. Over the years, her students accumulated a total of 34 medals competing at the World Games for the Deaf, and Seeger was the U.S. women's track coach for the games in '65, '69, '73, '77 and '85. Seeger has won her share of medals over the years as well, totaling over 300. Most recently in discus and long jump, Seeger took gold in her age group at the 2005 Summer National Senior Games. In 1998, she was inducted into the Texas Senior Olympics Hall of Fame. She died peacefully from this world on 13 April 2014 at the age of 89.