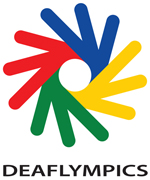 In this page, you will find information related to Summer Deaflympics that our USA Track & Field athletes and coaches took part in. The available menu are on your right for your selection.
For athletes who wish to qualify for USA Team for upcoming 2017 Summer Deaflympics in Samsun, please read Qualification Standards document below if you have met or exceeded the Qualification Standards. The performance marks must be made in 2015 or 2016.
We no longer have USA Trials for athletes who wish to tryout to earn a spot on USA Team. The last USA Trials we had was in 2000 held in Washington DC on Gallaudet University campus. In 2005 and onward, we use Qualification Standards and they are based on the averages from the last two Summer Deaflympics. 'A' Standards is based on fifth place averages and 'B' Standards is based on eight place averages.