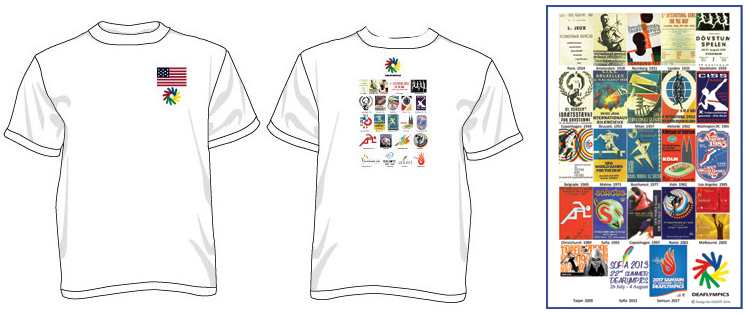 Limited Edition!
When it is gone, it is GONE!
This special dry-fit shirt showcases the rich history of Deaflympics. The shirt contains all Deaflympics poster images from 1924 to present.
The Deaflympics is the world's 2nd oldest international competition, second to Olympics which was formed in 1896.
You want to own this splendid shirt and wear with patriotic pride. You can get the shirt by making a $25 contribution. You are investing in your USA Deaflympics Track & Field team.
The fund raised from those shirts will cover the team's training camp, chartered bus from camp to airport and many other things as we prepare for future Summer Deaflympics.
You will feel the pride of our wonderful USA team as they compete by wearing the limited edition shirt. Created for people like you.
USA Deaf Track and Field (USADTF) wishes to thank you in advance for your support!