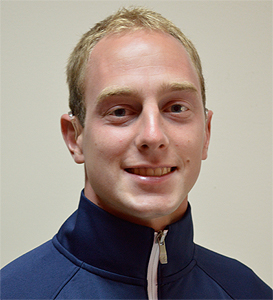 Senior Eric Klucar of Ashland University broke the Indoor American and Collegiate Record in the pole vault with 5.10m (16′ 8 ¾"). This performance was done last night at Grand Valley State University in Allendale, Michigan.
With this new record, Klucar broke Patrick Southern's indoor record of 5.02m (16′ 5 ½") which stood since February 17, 2006. At that time, Patrick was competing for University of Nebraska and Patrick currently owns the outdoor pole vault World Record at 5.06m (16′ 7 ¼"). Klucar is already no stranger at that height and can break the world mark when spring comes.
Klucar is already provisionally qualified for the Indoor NCAA DII Championships. In order to qualify as automatic entrance, he merely needs to go over additional 0.01m (¼"). He has two more regular indoor meets to earn "automatic" status. The Indoor NCAA DII Championships will be held at the Crossplex in Birmingham, Alabama on March 8-9, 2013.
Klucar is on the USA Team for upcoming 2013 Summer Deaflympics which to be held at Sofia, Bulgaria.