This year National Deaf Interscholastic Athletic Association (NDIAA) and USA Deaf Track & Field (USADTF) has created a positive collaboration. The partnership will bring greater recognition for Deaf schools. With this, they are three key changes in the criteria:
Top 8 finishers receive team points. In the past, points were awarded to the top 6 teams and this method has not changed since 1950. This helps provide more opportunity for recognition and expand competitiveness.
Team points are awarded only to NDIAA member schools with the exception of 6th/7th/8th graders. However, all individual deaf athletes from any school will still get recognition according to their performance ranking.
The highest honorable awards (team, individual, and coach) will be only awarded to NDIAA member schools.
For the first time since 2000, the Coach of the Year award is now returning to the spotlight! Thanks to NDIAA for redefining the criteria for this award. For the list of past Coach of the Year awards can be found here .
This year, 37 schools have turned in their best performances for both boys and girls.
After reviewing and compiling the finishes of all Track & Field events, the committee has declared the Team of the Year, Player of the Year, and Coach of the Year honors for both boys and girls.
2013 Prep Top 50 Best Performances
For all past prep top best performances, they can be found here .
More about NDIAA, please visit their website – www.ndiaa.us
The winners are: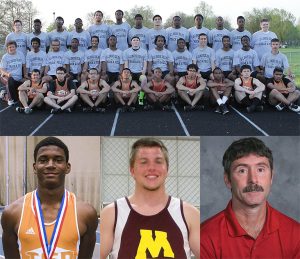 Boys:
Top: Team of the Year – Illinois School for the Deaf
Left: Track Athlete of the Year – Dwayne Esper, Illinois School for the Deaf
Middle: Field Athlete of the Year – Shaun Novella, Minnesota State Academy for the Deaf
Right: Coach of the Year – Joseph Lee, Illinois School for the Deaf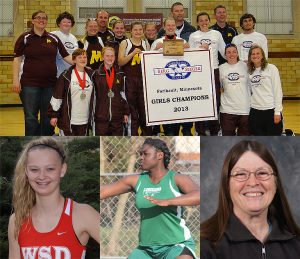 Girls:
Top: Team of the Year – Minnesota State Academy for the Deaf
Left: Track Athlete of the Year – Kori Koss, Wisconsin School for the Deaf
Middle: Field Athlete of the Year – Malakia Gowan, Louisiana School for the Deaf
Right: Coach of the Year – Therese Pohl-Markowitz, Wisconsin School for the Deaf